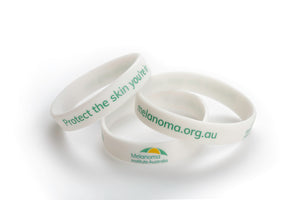 Be the first to know when you're exposed to UV with our fun colour changing wristbands.
These are great awareness raisers for kids, families and adults alike.
White silicon wristband with Melanoma Institute Australia branding. This wristband changes to purple when there is UV light. The stronger the UV, the darker shade of purple.
Kids: diameter 90mm, height 12mm
Adult: diameter 100mm, height 12mm
Please note: UV Wristbands are a promotional/novelty product and the UV colour change aspect can't be guaranteed to last a specific time.